How it works
How does our one-stop retrofit service work?
The Cosy Homes Oxfordshire service centres on a whole house approach to home retrofit, providing a full, one-stop-shop service for homeowners who want to increase the energy efficiency of our homes.
Once you register your home you will be assigned an expert Retrofit Coordinator based on your needs, who will act as your single point of contact throughout – though there will likely be other Coordinators involved behind the scenes depending on the expertise needed for your specific home.
On this page we'll explain how the service works including: the initial steps of home assessment and whole house plan, an outline of the full process, where costs come in, and the different routes to get started.
Hoping to take advantage of the Green Homes Grant to retrofit your home? Head to our Green Homes Grant webpage to find out more.
Step 1: Home assessment
The first step is for one of our Retrofit Assessors (or sometimes a Retrofit Coordinator, depending on availability) will come and assess your whole house to find out everything we need to know about your existing energy usage and the building itself.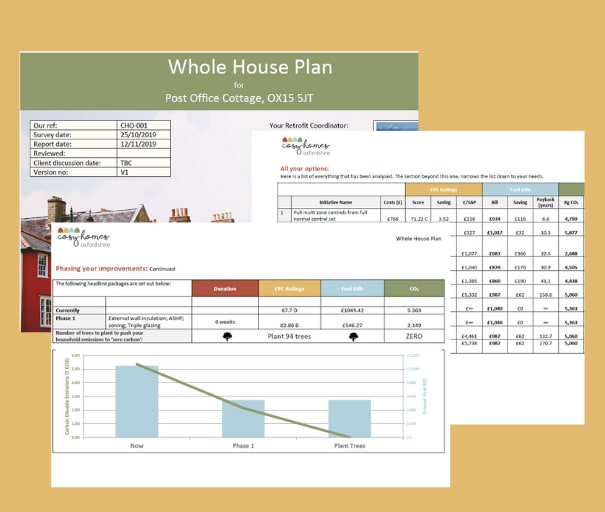 Step 2: Whole House Plan
Your Retrofit Coordinator will then use this information to develop a bespoke Whole House Plan for your home, detailing all the measures you could take to make your home as energy efficient as possible as a whole, with recommendations on the most cost-effective and impactful measures to take forward, and in which order.
It's then up to you to choose which measures you go ahead with, with the support and advice of your Retrofit Coordinator. If you do decide to go ahead, your Retrofit Coordinator will also manage the delivery of the work, finding trusted contractors, managing health and safety onsite, and checking the quality of delivery once complete. You can see all the steps of the retrofit process in the diagram below.
Our process in full
What costs are involved?
Our home assessment and Whole House Plan service costs £175, which covers the cost of the Retrofit Coordinator's time and expertise in creating your bespoke plan.
The Whole House Plan gives an idea of the cost if you go ahead with measures – but be aware that these are estimates only and so can be different to the final quotes.
After you've reviewed your Whole House Plan with your Retrofit Coordinator you will be sent a Client Services Agreement (CSA) which outlines any additional costs before work can begin on your retrofit – typically a Building Performance Specification and any technical reports needed for contractors to quote. This can cost up to £500.
If you go ahead with your home retrofit, there will be a 5% project charge for our service – also outlined in your CSA. This covers the cost of a Retrofit Coordinator to look after your home and be your trusted point of contact start to finish –gathering quotes from contractors, managing work and installations, and checking the quality of delivery once completed. And the peace of mind you gain from that? It's priceless.
How to get started
There are three routes into our service, depending on your needs and the direction you'd like to take for your home.
Not sure which route is right for you? Get in touch and our team can help advise you.
Online Plan Builder
(Free)
If you're curious about the current energy performance of your home but not quite ready to commit to starting your home retrofit process, we'd recommend checking out our free Plan Builder.
Simply put in your postcode and the online tool will tell you everything you need to know about the current energy performance of your home, as well as suggesting measures you could take to improve energy efficiency. You can then submit your plan to our team if you wish to move forward.
Remote Assessment and Whole House Plan (£75)
When you register your home you'll be asked if you'd like a remote or onsite assessment. For remote assessments, we use existing data sources (EPC, floorplans) alongside a 1 hour phone call with you to fill in any gaps. We'll then produce a reduced Whole House Plan.

If you choose to go ahead with any measures, you will still need to have an onsite assessment, paying the balance of £100.
Onsite Assessment and Whole House Plan (£175)
If you choose an onsite assessment when registering, one of our trained Retrofit Coordinators will contact you to book a time for your onsite home assessment, which can take up to 3 hours.
We'll use the information gathered to produce a bespoke Whole House Plan, detailing the recommended measures to improve energy efficiency. This will include any particular needs we've already discussed with you.
Is Cosy Homes right for your home?
Not sure if the Cosy Homes Oxfordshire service is right for you? Read our blog post, covering more about the types of homes and homeowners that the service will work for, as well as other routes to retrofit if it doesn't sound right for you.
Featured Blog post
We can all do our bit to mitigate the effects of climate change by ensuring that our homes are as energy efficient as possible and so reduce carbon emissions. We know that our UK housing stock is fairly old and inefficient, accounting for an estimated