Member stories: the benefits of joining the Cosy Homes Oxfordshire delivery team
Cosy Homes Oxfordshire is a one-stop home retrofit service connecting homeowners with skilled building professionals to deliver high quality retrofit work, under one seamless programme.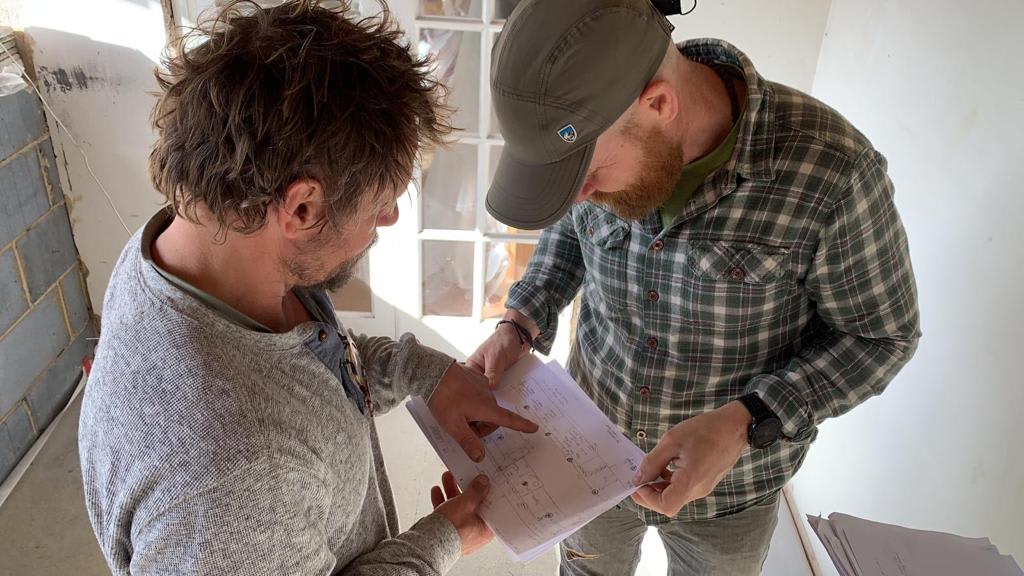 We work with local (or willing to travel) building professionals to deliver energy efficiency solutions for homeowners in two ways: as Retrofit Coordinators and as General Contractors. Members of our delivery team must first become part of the RetrofitWorks cooperative. RetrofitWorks is our delivery partner, and they ensure that our delivery team is supported with the right training, easy access to TrustMark accreditation, ongoing admin, marketing and finance support, and for our General Contractors – vetted high quality leads.
Here we've collected stories from building professionals who are already members of the RetrofitWorks cooperative to shed some insight on what it's like to be a RetrofitWorks member.
Read on to learn more about how joining RetrofitWorks has added value to each member's business, and how joining RetrofitWorks and working on the delivery team for Cosy Homes Oxfordshire could benefit your consultancy, business or trade too.
Retrofit Coordinator Member Story: Natasha Ginks, Renovate Green
Having initially worked as an academic researcher looking at the energy use of older properties, Natasha Ginks has always had the environmental impact of homes at the forefront of her work.
Natasha runs Renovate Green, a consultancy business advising people on sustainable and environmentally focused renovation, with a particular emphasis on older properties.
She also directly works with Cosy Homes Oxfordshire as a Retrofit Coordinator. You may have seen her in our home energy assessment video and has coordinated a recently completed home retrofit in Hook Norton for Cosy Homes Oxfordshire. She also led our air and ground source heat pumps webinar in October 2020.
Why did you decide to join RetrofitWorks as a Retrofit Coordinator?
RetrofitWorks offered me access to further training in retrofit as well as exposure to specialists in the retrofit world with whom I could consult and share knowledge. I wanted to be part of a regional retrofit movement to achieve warmer, healthier, less polluting homes for people and RetrofitWorks, via Cosy Homes Oxfordshire, offered this.
Has joining RetrofitWorks had a positive impact on your business?
Joining RetrofitWorks as a Retrofit Coordinator has exposed me to different specialists, ideas, products, analysis techniques etc and as a result I feel more confident in my knowledge and the advice I give. It feels great to feel part of a team and working towards a common goal. I know that when there's something I'm unsure about there's always someone to contact for advice. I've been able to hone my skills in carrying out home surveys; using the data software programme – CHROHM; preparing reports; project management; assessing quotes; client communication; and promoting the Cosy Homes Oxfordshire retrofit scheme.
What is your favourite part of the RetrofitWorks network and service?
I like the variety of work – surveys, writing reports, using CHROHM (our database tool on homes in the UK), weekly meetings, the interface with clients, discussions with other Retrofit Coordinators, talking to contractors and suppliers.
I also like the technical support that the Cosy Homes Oxfordshire scheme provides and the knowledge sharing between Retrofit Coordinators, architects, scheme managers. We have skype groups that are great for getting immediate answers to questions and for finding out how people tackle different tasks and business issues. They are a brilliant platform for knowledge sharing and help self-employed people feel part of a team and connected to like-minded professionals. The weekly Cosy Oxfordshire Homes meetings are an interesting forum where projects can be discussed and technical advice sought/given.
RetrofitWorks has helped me improve my organisational skills and embrace new programmes, document sharing, invoicing techniques etc. It's been a steep learning curve but I feel better trained and better equipped to tackle retrofit projects as a result.
Another significant benefit has been expanding my network through RetrofitWorks connections. I've met and worked with architects, Retrofit Coordinators, Domestic Energy Assessors, material suppliers, contractors through RetrofitWorks and this definitely helps me in my business. My network has also expanded by meeting clients, some of whom are involved in the combatting of climate change.
Has your RetrofitWorks membership helped you achieve your career goals?
Yes, it's brought me into the hub of the retrofit world and helped me expand my knowledge, skills and contacts. It's helped me to become more realistic about the levels of retrofit that homeowners are able to achieve and how retrofit can be rolled out, at scale, across the UK.
Would you recommend joining RetrofitWorks to others?
Yes I would. It feels great to be part of a regional programme with targets, systems, funding, training opportunities and a steady stream of clients. We need more Retrofit Coordinators to deliver the pipeline of clients we have looking for retrofit support – so I'd definitely encourage others to join and get involved.
General Contractor Member Story: David O'Neil, Associated Response
Associated Response covers all aspects of both home and commercial plumbing services.
Why did you decide to join the RetrofitWorks cooperative?
Associated Response joined RetrofitWorks at the end of January 2015. At the time we were pursuing grant supported boiler installs under the ECO funding to help households suffering from fuel poverty. The challenge was to find a source of funding that was sustainable and reliable in terms of payment, especially ECO funding which has always been a turbulent market.
RetrofitWorks supported us from the start of each project to the end, liaising with the customer on our behalf. Our expectation – to be paid 100% on each job, no bad debtors, no lengthy payment terms, steady manageable flow of work. RetrofitWorks delivered.
RetrofitWorks provided an array of competitive and practical opportunities. In summary – credibility, market knowledge and influence, sustainable paid and profitable work and the opportunity for growth as a business, as an employer and an ethically focused organisation.
This answer embraces why we joined but also the question of far more importance – why we have stayed and are as excited as ever by being part of RetrofitWorks.
How has becoming a member of RetrofitWorks made a positive impact on your career/business?
The heating industry is seasonal. Over the last 5 years the schemes coordinated and championed by RetrofitWorks have provided a consistent flow of work (heating installs) that we have been able to plan over several months – esp summer months when larger projects had previously been difficult to find.
RetrofitWorks has given Associated Response a step-up to compete with larger organisations in terms of sourcing work, whilst the RetrofitWorks cooperative model has itself presented market opportunities for us as a member. From a business view the increased turnover has, more importantly, been profitable.
Has RetrofitWorks membership helped you to achieve career or business goals?
RetrofitWorks has provided a methodology and pricing model that we, as a micro company, do not have the resources to develop.
Their expertise with planning, delivering, and managing large-scale projects allows us to focus our attention on the actual heating work. It's a transparent and successful working partnership. Alongside this relationship, being a member of the RetrofitWorks cooperative opens us to a cultural shift in how heating integrates with insulation and ventilation, and the opportunities and obligations for the future.
As for professional development, our experience is that RetrofitWorks is at the vanguard of what is happening in the construction and retrofit market, for example PAS2035. It means you save time, effort and expense because RetrofitWorks has already researched the opportunity and the routes you can take based on your needs and aspirations as an individual and company.
Would you recommend membership to others in the building profession?
If you recognise that we have obligations – as a society to save our environment, as a company to have a sustainable and profitable future, as a service to get the best for your customer, as an individual to be the best in your field. Then, yes, I would recommend RetrofitWorks. The cost of joining and being part of RetrofitWorks is nothing compared to the price of not.
General Contractor Member Story: Andrei Tartza, Managing Director, Pioneer Wall Cladding & Building Insulation Ltd
Pioneer is a family-run business that specialises in home insulation and all aspects of wall care.
Why did you decide to join RetrofitWorks?
We've long been part of the wider effort to increase energy efficiency in homes. Having looked at the support RetrofitWorks can offer, we were keen to be part of the broader effort and work together with other professionals.
Has joining RetrofitWorks made a positive impact on your career/business?
Working as part of RetrofitWorks has definitely been a positive experience. We've expanded our network, and have been able to learn at a fast pace by working with retrofit coordinators. This has provided us with the confidence to broaden the number of services we offer, so we can better support residents.
I would say it has even helped us surpass our goals as a business, as well as setting new broader goals for the future. The ability to learn from expert Retrofit Coordinators was of great help. We have also further streamlined some of our administration processes by plugging into the RetrofitWorks organisation, such as using their standardised tools for quality control on all our RetrofitWorks jobs.
Would you recommend other building professionals join RetrofiWorks?
Definitely. If you like to deliver quality and if you like to learn and grow you will definitely enjoy working with RetrofitWorks.
Feeling motivated by our member stories? 
Your building profession could join them to lead the way in transforming Oxfordshire's homes. Contact Michael Huth, our Membership Development Manager, on membership@retrofitworks.co.uk to find out how.
Already registered with us as a member? We'd love to hear from you. Contact us to send us your member testimonial and be featured in our member stories.
Read next…
Over the past year we've been building up our pool of trusted, local building contractors to work on home retrofit projects through Cosy Homes Oxfordshire. This has been successful and we've brought lots of contractors

There's huge opportunity in retrofit for the building and construction industry – here's why The UK government has set a target committing to become a net zero carbon emissions economy by 2050, as recommended by the Committee on Climate

Interested in retrofitting your home and wondered what exactly the role of a Retrofit Coordinator involves? Spending days filled with home assessment visits, tailored consultations, energy audits, and site visits, Retrofit Coordinators take a hands-on