A guide to solid wall insulation – internal and external wall insulation
In this series of 'understanding retrofit measures' blogs, we'll be explaining different retrofit measures which can improve the energy efficiency of homes – reducing energy usage to cut energy bills and carbon emissions, and improve the comfort of your home.
We'll include information on how the measure works, what types of homes it may be right for, what installation looks like, and more. In this post we're looking at solid wall insulation, both internal wall insulation and external wall insulation.
Want us to cover a particular measure? Drop us an email to info@cosyhomeoxfordshire.org and we'll see what we can do.
What is solid wall insulation?
In uninsulated homes, around a third of heat loss is through the walls. The best way to reduce heat loss through walls is dependent on the type of walls your property has. Solid walls are walls with no gap, so they cannot be filled with cavity wall insulation, but they can be insulated by adding insulating material to the inside or outside of the wall to reduce heat loss.
How does solid wall insulation work?
There are two ways to insulate solid walls: internally and externally.
Internal wall insulation can be done by fitting rigid insulation boards to the wall. It can also be done by building a stud wall – a timber frame which sits in front of the solid wall. The gaps in the frame are then filled with insulation material such as mineral wool fibre. This will slightly reduce the floor area of the room. You'll also need to ensure any issues with damp are dealt with prior to undertaking the work.
External wall insulation involves a layer of insulation material being attached to the wall on the outside of the home, which is then covered with a special type of plasterwork or cladding which can then be decorated over. This is a less disruptive procedure than internal wall insulation. It also has the added benefits of improving weatherproofing and sound resistance, as well as protecting the brickwork and so expanding the lifespan of the walls. However, it may require planning permission, depending on your local council.
Solid wall insulation and ventilation
Solid walls allow water vapour to move freely through the building, as it can travel through the bricks and stones that the walls are made up of. When you add insulation, this can change the way the water vapour behaves – cutting down draughts, but also potentially causing water vapour to condense on the inside of walls (as the wall is colder than previously).
Because of this, it's imperative that when you fit solid wall insulation you also take into account water vapour to ensure you don't cause ventilation and damp issues in your home later down the line. This could be about using 'breathable' insulation materials or creating a vapour barrier. A professional and reputable installer will ensure that this is taken into account. If you work with Cosy Homes Oxfordshire on your home retrofit you'll have access to our network of trusted contractors, who we will contact and manage for you – so you won't need to worry about this.
What types of home does solid wall insulation suit?
If your home was built before 1920 it likely has solid walls, and it's very unlikely that they are insulated (unless you've already had this procedure done yourself). You can also identify the type of walls your home has by their width. If a brick wall is more than 260mm thick it is probably a cavity wall, but if it is narrower it is more likely to be a solid wall.
If you aren't sure what type of walls your home has, Cosy Homes Oxfordshire can help with that through our home assessment and Whole House Plan service. Simply register your home with us and we'll be in touch to book your home assessment.
We recently finished working on a home retrofit on a end-terrace cottage in the village of Hook Norton, which involved both internal and external wall insulation, as well as the installation of an Air Source Heat Pump – take a look at the case study to see how it worked for this particular home.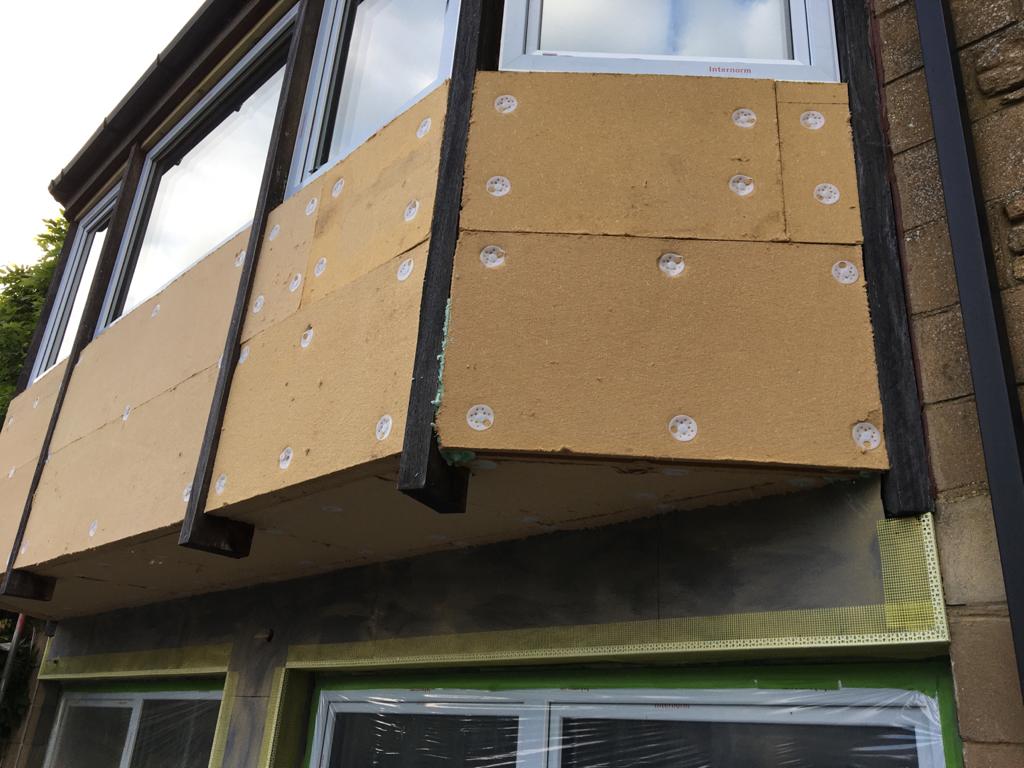 What are the expected costs and savings?
Solid wall insulation will cost more than insulating a standard cavity wall, but you'll likely make larger cost and carbon savings too.
The Energy Savings Trust estimates the cost of solid wall insulation to be around £7,400 for internal wall insulation and £13,000 for external wall insulation (based on a typical semi-detached home). Please note that you might be able to reduce these costs by carrying out the work at the same time as other home retrofit improvements through our Whole House Plan approach.
The Energy Savings Trust predicts savings as below (April 2019 data).
| | | | | | |
| --- | --- | --- | --- | --- | --- |
| | Detached house | Semi-detached house | Mid terrace | Bungalow | Flat |
| Energy bill savings (£/year) | £375 | £225 | £145 | £150 | £105 |
| Carbon emissions diverted (kgCO2/year) | 1540kg | 930kg | 590kg | 620kg | 425kg |
Read next…
In this series of 'understanding retrofit measures' blogs, we'll be explaining different retrofit measures which can improve the energy efficiency of homes – reducing energy usage to cut energy bills and carbon emissions, and improve

In this series of 'understanding retrofit measures' blogs, we'll be explaining different retrofit measures which can improve the energy efficiency of homes – reducing energy usage to cut energy bills and carbon emissions, and improve

Research has shown that taking a whole house approach is one of the key factors in ensuring that home retrofit is as effective as possible at reducing the carbon footprint of a property. Whole house retrofit means that we are aiming to take a property to near